Bring Everywhere, Wear Anywhere - Biso Coco is here!
Loving the Belstaff Winter 2016/17 collection! Here are my favourite jackets
Style, eye popping colours and luxurious materials: Shop Demadly's beautiful bikinis
Make a splash: These items will take you from pool side to dinner in style
Ready for summer? These stylish and luxurious kaftans will take you from beach to evening
The perfect bikini : New arrivals: The essential timeless and chic
Escaping for warmer weather this holiday season ? Here are your beach holiday must have
The perfect stylish bags for travel - The ideal christmas gift or why not treat yourself ?
TIMELESS CLASSICS - THE PERFECT JACKETS FOR TRAVELLING, ADVENTURE OR EVERY DAY LIFE
Discover your holiday essentials : MY JEMMA - luxurious pieces with the perfect fit
The American dream : Have a peek inside Interior designer Drew Mc Gukin's creative world
Stockholm: Scandinavian timeless
Meet Juliana de Lima Vasconcellos: Brazil's shining architectual designer star
Parisian chic : A love affair with books and light
TEL AVIV : Contemporary simplicity
CAPE TOWN : A stylish oasis in the middle of the buzzing city
Paris, Victor Hugo : White, crisp and pure style
BERLIN: Clean lines, simple and chic
PARIS, ST GERMAIN: Tom Ford, cigar rooms and dark wood
Spain, Cabo Roig: Scandinavian simplicity with an ethnic touch
SEYCHELLES: Colonial meets Creole : Karl Ammann's island home
CASA TORCIDA: An eco friendly architectural piece of art
A BRAZILIAN DREAM- The Novogratz's beach house in Trancoso, Brazil
CAPE TOWN BLISS - Contemporary with striking views
Jose Ignacio, Uruguay: The Hamptons of South America
Deia, Mallorca : A stylish fairytale village
Out of Africa : The Izingwe Lodge
Osa Peninsula, Costa Rica : Rustic chic in the rainforest
CAPE TOWN: Three hidden gems - Stylish and luxurious boutique hotels
Villa Maison Noir, Cape Town : A little piece of heaven
SANTA TERESA, COSTA RICA- A barefoot bliss paradise
CAPE TOWN, SOUTH AFRICA : The city of contrasts, the city of beauty
Pushing Limits - Polar expeditions and extra ordinary adventures- Meet Henry Cookson
ZANZIBAR - mystery, intrigue and exotic adventure . By Holly Meadows
States of Flux : Anna Sudbina
The lonesome photographer: Alessandro Sarno: Bahamian Tales
STEVEN CLOUSE: WILD OCEAN: Limited Edition Series ' Pacific City, Oregon '
Lyndon Brandt : Do what you love - "The Swimmer" collection
PHOTOGRAPHER STEFAN RADTKE: Blurred lines
The Ballerina Project - Photographer: Max Mode'n
Raffaella Molin: Unique, bespoke and handmade ceramics
South African photographer Nick Aldridge: Ocean flow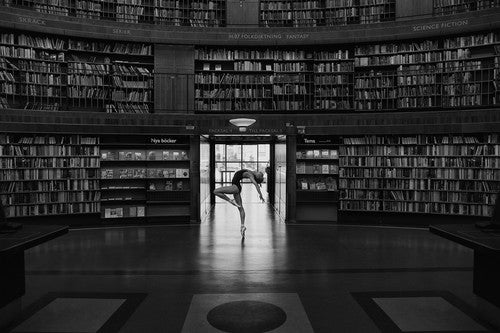 Max Moden
Max Mode'n: Ballerina at Stockholm City Library Nr.2
Photographer Max Moden. Ballerina at Stockholm City Library from 2015. Limited edition, numbered and signed by artist. Measurements: 140cm x 100cm / edition of 10 prints. All work are printed on fine art photo paper, with a 3cm white bord.  THIS ARTWORK WILL BE SHIPPED DIRECTLY FROM PHOTOGRAPHER IN STOCKHOLM. Pls. click the right button below depending on where you want the artwork delivered. If you like to order and want the art work to be shipped outside Europe pls. contact us at info@alimitlessworld.com and we will give you exact quote for shipping to your desitination.
Add to wishlist
When you are buying a product on our site, you will receive a confirmation from us but also directly from the brands, who will then ship the products directly to you. We are trying to make the buying experience as seamless as possible within our limits. We believe in building close and personal relationships with each designer and brand in order to provide best possible customer service. Any communication in regards to shipping/ exchange and returns will be directly with the brand but you are of course welcome to contact us at info@alimitlessworld.com any times if any inquires or issues and we will do our best to help. Most brands will ship to anywhere in Europe and US. Some ship globally. Some brands will not ship outside these geographic areas but we will try to accommodate your requests if we can. The prices given at the site are including all shipping and are inclusive of any costs. Sometimes you may be asked to click the right option depending on your location, in order for us to give you accurate price including shipping to your destination. The brands that we are working with may have different policies in regards to exchange, shipping and returns. Make sure you read the brand/brands own T&C and policies. A Limitless World aims to give a good customer service but since we do not ship the products directly , unfortunately we cannot control or take responsibilities for any delays or direct communication that may be held between customer and the brand .
Most brands that we are working with will have at least 14 days exchange/ return policies. Any exchange and return enquiries should be directly with the brand that shipped the product to you. They should be able to answer any questions that you may have. You are of course welcome to contact us at A Limitless World at any times by emailing info@alimitlessworld.com You may have to pay the return shipping costs yourself and this cost cannot be refunded. A Limitless World will pay back the refund to your card as soon as we have received confirmation that the brand/ designer has received the product and confirmed ok . It may take up to 2 weeks for your refund to appear on your bank statement depending on bank and different transaction processes..